*This article may contain affiliate links. This means that if you make a purchase after clicking on the link, I may receive a small commission at no extra cost to you.
If you are looking to visit South Dakota then maybe you are wanting to visit Mount Rushmore or Crazy Horse Memorial. It can be hard to decide between the two if you have only time to visit one but I will show you Crazy Horse vs Mount Rushmore to help you make that decision.
If you have time to visit both, then I would recommend visiting both as they are different and offer different experiences, they are only a 30 minute drive from each other and easy to get from one to the other if you have a car.
Mt rushmore vs crazy horse size
Crazy Horse once completed will be much bigger than Mount Rushmore, for comparison just the head of Crazy Horse is 26.7m high and the heads of Mount Rushmore are just 18m high.
If you put all 4 presidents heads from Mount Rushmore on top of each other they still wouldn't reach half the size of Crazy Horse.
Crazy horse monument size compared to mount rushmore is huge, once Crazy Horse Monument is finished it will be 171m tall and 195 metres wide, which would have made it the largest sculpture in the world, but that is now the statue of Unity in India which is 182m high and was completed in 2018.
How far is crazy horse monument from mount rushmore?
Mount rushmore to crazy horse distance is only about 9 miles apart as the crow flies, though by road it is 18.7 miles and will take you around 30 minutes to drive.
Both Crazy Horse Memorial and Mount Rushmore are in the Black Hills of South Dakota and Mount Rushmore is built on land which was originally owned by the Lakota tribe.
Crazy horse memorial vs Mount Rushmore visitor numbers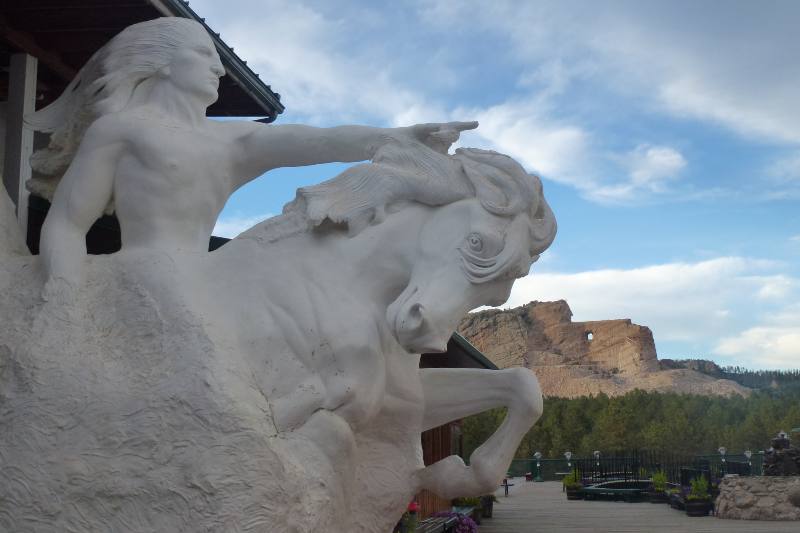 Mount Rushmore is the most popular of the two and has the most visitors, with just over 2 million visitors a year. A lot of visitors to Mount Rushmore are ex military or current military who like to go to experience the lighting ceremony on an evening.
Crazy Horse Memorial is still very popular though with over 1.2 million visitors a year.
Mount rushmore and Crazy horse Light Shows
Crazy Horse has a nightly laser show in the summer and Mount Rushmore has a lighting ceremony during summer too though they are both very different.
The Mount Rushmore lighting ceremony involves listening to a ranger give a bit of history behind the 4 presidents chosen for Mount Rushmore and then a short video about the history of the US and towards the end of the video you will see that the 4 presidents are lit up. It also involves veterans and active servicemen coming onto the stage at the end to help lower the flag and fold it for the night.
The Crazy Horse Memorial light show is different in that everything goes dark and you hear music and lasers are directed on to the mountain where the Crazy Horse Memorial stands, you see images and writing projected onto the mountain telling the story of the native Americans who lived in this area, to music and songs about the history of the Native Americans and why Crazy Horse Memorial is being built and the story behind that.
How were Mt Rushmore and crazy horse funded?
Mount Rushmore was completely funded by government money with 400 workers and was finished in 14 years at a cost of just under $1m in 1941. It was actually declared completed as they had run out of money. They were originally going to carve from the waist up, but decided against it as money was running out, they were also people petitioning for them to add a fifth head but again the idea was rejected due to lack of funds.
Crazy Horse has so far been worked on for 74 years, with no government funding and for many years Korczak Ziolkowski worked on the monument by himself and it has now cost millions of dollars.
The local native Americans were against Mount Rushmore being built and the mountain on which Mount Rushmore is carved actually belonged to the Lakota Indians. The Lakota Chief Henry Standing Bear then decided that they should have their own monument to one of their own and sculptor Korczak Ziolkowski was brought in to carve Crazy Horse.
Nowadays the local native Americans are not all in support of Crazy Horse Memorial, with some saying that we should not be destroying the natural mountain but others saying that it is not right that a non native family is benefiting from a memorial to a Native American.
Entrance fee for Crazy horse monument compared to Mount Rushmore
To enter Crazy Horse the price is $12, though this will increase to $15 on 27 May 2023. If you would like to get a closer look at the Crazy Horse Mountain you can get a bus to a viewpoint closer which is $4 or you can pay $125 to visit the actual site and stand by the face of Crazy Horse and walk along his arm.
To enter Mount Rushmore it is free, though you will need to pay $10 for parking fee, though this lasts for 1 year if you would like to visit again.
Mount Rushmore has an audio guide for $6 that tells you the history of the site, with different points to stop or a multi media guide at $8, there is no audio guide at Crazy Horse, though there is an orientation film that they recommend you watch as soon as you enter, there are also 3 museums, cultural shows and a viewing platform. You can also pay the $4 to get a bus closer to the mountain.
Are the mountain carvings realistic – Mount Rushmore vs Crazy Horse
The 4 presidents heads of Mount Rushmore have been taken from photos of the presidents and we know that this is how they actually looked. The faces are very detailed even including President Lincolns mole.
There are no actual photos of Crazy Horse as he refused to have his photo taken and so the face of Crazy Horse is a representation of how a Native American looks rather than of one particular person.
The reason for creating Crazy Horse Monument vs Mount Rushmore
Mount Rushmore was built to attract tourists to South Dakota, the original idea was to have the heads of famous local people from South Dakota but then it was decided to pick 4 presidents as that would attract more tourists to the area.
Crazy Horse Memorial is being built as a memorial to Crazy Horse and to represent the Lakota tribe who are from the area, so very different reasons for being built.
Hikes at Crazy Horse compared to Mount Rushmore
At Mount Rushmore, there is the Presidential Trail which is only half a mile and takes you closer to the mountain and the heads of the presidents. The trail is quite difficult from the heads to the sculptors studio with 422 steps, though it is accessible from the Grand View Terrace to the base of the mountains for anyone with mobility issues.
At Crazy Horse there are no hikes, though you can take the bus which costs $4 to get closer to the mountain or even choose to donate $125 to get a bus up to the face of Crazy Horse and walk along his arm.
Twice a year at Crazy Horse Memorial it is possible to hike from the visitors centre up to the face of Crazy Horse and back a total of 6.2 miles, this event normally happens on one day in June and one day in October and is just $3. Thousands of people take advantage of this hike to get a closer look at Crazy Horse Memorial as normally it would cost a minimum donation fee of $125.
Biggest difference between mount rushmore compared to crazy horse
The obvious difference between the two is that Mount Rushmore is finished and Crazy Horse is still years away from completion.
Mount Rushmore was started in 1927 and took 14 years to complete, with 400 workers working on it. It was finished in 1941, 6 months after the death of the sculptor Gutzon Borglum.
In 1948 Korczak Ziolkowski started work on the carving of the mountain to create Crazy Horse, working mainly on his own for 34 years before his death in 1982. Even now there is generally only 1 foreman and 3 workers working on Crazy Horse, though generally in summer this number increases.
If Crazy Horse had 400 people working on it now, how long would it take for them to finish it? Maybe then it would be finished in our lifetime!! But this will never happen as Ziolkowski vowed never to accept government money and no money has ever been accepted from the Lakota casinos towards this project either.
For more information on Mount Rushmore and Crazy Horse Memorial check out these guides:
Save for later